Abandoned & Protected: The Marquis' Tenacious Wife
Unabridged Audiobook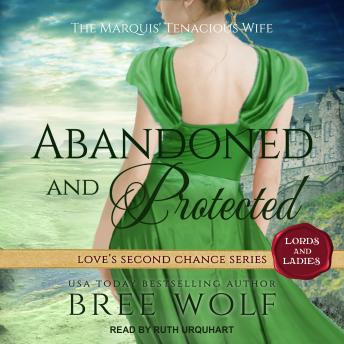 Duration:
8 hours 48 minutes
Summary:
On his way to claim his late father's title, highland chief Connor Brunwood, stumbles upon an English lass in a deserted clearing. She's dressed like a man, in shirt and breeches, her blond tresses hidden under a large hat and a foil in her hand, as she practices the art of sword-fighting.

Awed by the sight of her spirited, blue eyes, and graceful, yet alluring movements, Connor calls her bluff, vowing that he will make her his wife. However, that is easier said than done.

Weary of men and their intentions, Henrietta Turner lives and plays by her own rules alone. So far she's thwarted every marriage proposal to come her way-though gentlemen aren't exactly beating down her door. Her scowl and outright manner have sent even the most steadfast of them running for the hills. Good riddance, for Henrietta is hell-bent on remaining unwed.

However, her plans come to an abrupt halt when a devilishly disarming highlander discovers her secret hideout. Undeterred by her rejection, Connor goes over her head to her uncle and secures her hand in marriage.
Genres: