And the Prophet Said: Kahlil Gibran's Classic Text with Newly Discovered Writings
Unabridged Audiobook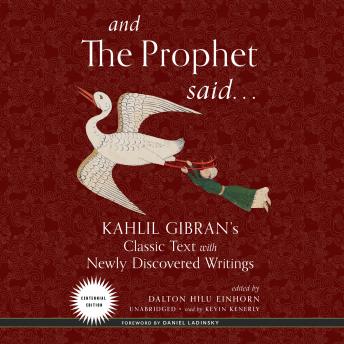 Duration:
2 hours 24 minutes
Summary:
And the Prophet Said is a new, complete edition of Kahlil Gibran's classic text with more than 150 unpublished poems, aphorisms, and epigrams.

Originally published in 1923, The Prophet is a teaching fable that has been cherished by millions for nearly one hundred years. It is a book of wisdom that provides guidance for readers on how to live a life imbued with meaning and purpose. Gibran explores all of life's important issues, including love, marriage, the human condition, friendship, prayer, beauty, death, and much more.

What makes this edition especially exciting is the inclusion of newly discovered Gibran material. In 2017, Dalton Hilu Einhorn gained access to the Gibran/Haskell archives at the University of North Carolina. Buried among this treasure trove of papers, he came upon little-known Gibran writings, published here for the first time.

Here is classic Gibran wisdom and inspiration that leads readers to contemplate love, beauty, mortality, and meaning. The words have an immediacy and depth that will appeal to the millions who have read The Prophet.
Genres: