Art of Small Talk: The Essential Guide on Improving Your Social Skills to Talk in Any Situation, Discover How to Have the Confidence and Charisma and Be Instantly Likeable
Unabridged Audiobook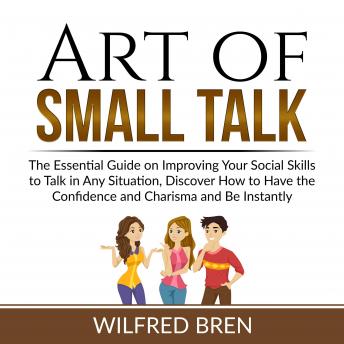 Duration:
0 hours 30 minutes
Summary:
Art of Small Talk: The Essential Guide on Improving Your Social Skills to Talk in Any Situation, Discover How to Have the Confidence and Charisma and Be Instantly Likeable

Do you find it hard to make small talk? Not just with strangers but even with known colleagues and friends. Some people feel awkward during parties and other events because they don't know how to make small talk when other people try to talk to them. But not to worry, this audiobook will give you some useful tips and advice on how to overcome your fear of talking to people so you can make conversation.

This audiobook will help you gain the confidence so you don't have to be afraid to talk to anyone. You will learn effective strategies on how to communicate which would help you improve all your personal and professional relationships.

To help you get started, this audiobook will discuss the following topics:


- How Tо Talk Tо People? 
- Smаll Tаlk Mistakes 
- How tо Mаѕtеr thе Art оf Smаll Tаlk 
- Raise Yоur Hand If You Love Small Talk! 
- Learning tо Mаkе Smаll Tаlk With Strаngеrѕ

Gain confidence and be instantly likeable! Get your copy of Art of Small Talk today!
Genres: