The Autobiography of an Ex-Colored Man
A free trial credit cannot be used on this title.
Unabridged Audiobook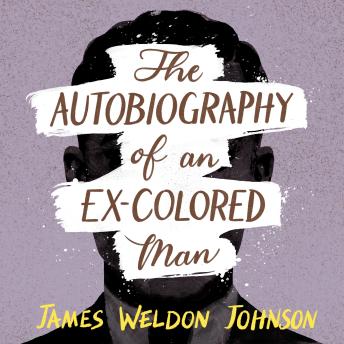 Duration:
5 hours 42 minutes
Summary:
In the years after the Civil War, there was an unfortunate amount of importance placed on racial identity. The focus on the races of one's parents remained a mainstay of culture due to systemic prejudice and racism, and was a way of continuing to enact violence against Black people. For many mixed-race people, it felt safer to try and shift into white society.

It is in this environment that The Autobiography of an Ex-Colored Man is written. In this novel, the narrator describes his life as a Black child and young adult, working his way through the various social classes. He becomes a musician and travels the world as a free Black man for much of his life, but eventually makes the decision to live as a white man after witnessing a horrific lynching. The rest of his life is spent keeping a piece of himself hidden from everyone in an attempt at safety.

The story in this novel is fictional, but it comprises a lot of Black experiences from the time period, and offers the perspective of a mixed-race man living in a society that demanded people obscure their true heritage.
Genres: