The Avengers - The Lost Episodes Volume 04
Unabridged Audiobook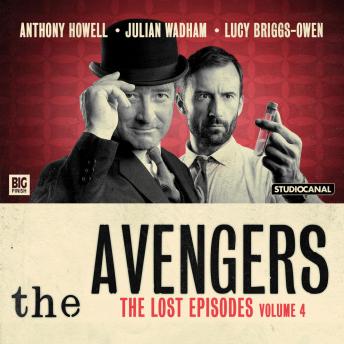 Duration:
3 hours 35 minutes
Summary:
Steed and Dr Keel return to action in these four recreations of classic lost episodes:

1. Kill the King

By James Mitchell, adapted by John Dorney

When the King of an unstable Far Eastern country visits the UK to sign an oil treaty, Steed is assigned to his protection and discovers that assassins lurk around every corner.

2. A Change of Bait

By Lewis Davidson, adapted by John Dorney

Carol's landlord has got into a lot of trouble with a shipment of bananas and a crooked businessman. Fortunately Steed and Keel are hot on the heels of insurance fraudsters and might just be able to save him...

3. Hunt the Man Down

By Richard Harris, adapted by Justin Richards

When Frank Preston is released from prison the race is on to find his hidden loot. Can Steed and Keel survive warring gangsters to return the stolen property and rescue a kidnapped Carol?

4. Dead of Winter

By Eric Paice, adapted by John Dorney

When the frozen body of a Neo-Nazi is discovered at the docks, Steed and Keel get involved with a fascist organisation developing an apocalyptic plan.

1 The Springers
Written by John Whitney and Geoffrey Bellman, adapted by John Dorney
Guest cast: Miranda Raison, Dan Starkey, Sarah Lark
Steed and Keel go undercover to try and crack a prison escape route.

2: The Yellow Needle
Written by Patrick Campbell, adapted by John Dorney
Guest cast: Geff Francis, Maggie Service, Derek Ezenagu, Jacqueline Boatswain
An attempt is made on the life of Sir Wilberforce Lungi, the Prime Minister of an African country on the verge of independence, and Steed and Keel attempt to expose his enemies.

3: Double Danger
Written by Gerald Verner, adapted by John Dorney
Guest cast: Dan Starkey, Angus Wright, Jessica Martin, Nicholas Briggs
A dangerous attempt to discover a cache of stolen diamonds goes badly wrong, and Keel is captured by a criminal gang.

4: Toy Trap
Written by Bill Strutton, adapted by John Dorney
Guest cast: Philip Pope, Geoffrey Breton, Harriet Hare, Derek Hutchinson
Keel is charged with keeping an eye on the daughter of a friend. But it soon becomes clear that all is not well at her place of employment, a department store in London...
Genres: