B. J. Harrison Reads Pride and Prejudice
Unabridged Audiobook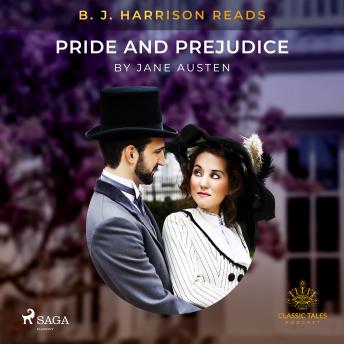 Duration:
12 hours 30 minutes
Summary:
Jane, Elizabeth, Mary, Kitty and Lydia are the five Bennet sisters. Their mother wants to make sure that her daughters marry wealthy men, because being women, they cannot inherit the family estate or earn any money themselves. When the rich and young Mr Bingley moves into the neighborhood, Mrs Bennet tries her best to make him fall in love with one of her daughters. But when Mr Bingley does fall in love with Jane, Bingley's friend Mr. Darcy opposes the match, while he himself secretly falls for Elizabeth.
Will Mr. Bingley marry Jane? How will Elizabeth react to Mr. Darcy's unexpected attachment? And what will happen to Mary, Kitty, and Lydia? Find all the answers in Jane Austen's world famous novel 'Pride and Prejudice'.

B. J. Harrison started his Classic Tales Podcast back in 2007, wanting to breathe new life into classic stories. He masterfully plays with a wide array of voices and accents and has since then produced over 500 audiobooks. Now in collaboration with SAGA Egmont, his engaging narration of these famous classics is available to readers everywhere.
Jane Austen (1775-1817) is one of the most beloved British writers of all time. During her short life she published six novels: 'Sense and Sensibility', 'Pride and Prejudice', 'Mansfield Park', 'Emma', 'Northanger Abbey' and 'Persuasion', all of which are considered literary classics today. Her writing is full of sharp observations on the society in which she evolved, as well as ripe with timeless irony, and a solid dose of humor. She has created immortal characters that have inspired countless authors, novels, and movies such as 'Bridget Jones' and 'Clueless'.
Genres: