B. J. Harrison Reads Transformation
Unabridged Audiobook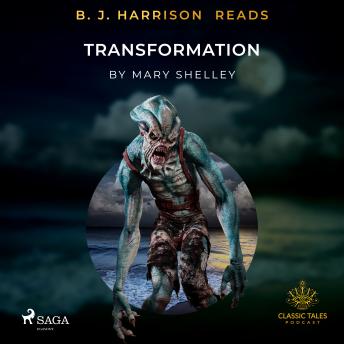 Duration:
0 hours 53 minutes
Summary:
Guido il Cortese is a young man who inherits a fortune from his father. He is about to marry Juliet, the daughter of one of his father's friends. Before the wedding was to take place, Guido decided to travel to Paris, where he squandered away his family fortune. No longer able to marry Juliet, he is banished from his hometown of Genoa but he is determined to get his revenge. One day, he sees a strange creature floating to shore. The creature looks disgusting but it offers Guido a deal – wealth in exchange for Guido's body. It sounds ridiculous but Guido agrees. Find out what followed in Mary Shelley's 'Transformation'.
B. J. Harrison started his Classic Tales Podcast back in 2007, wanting to breathe new life into classic stories. He masterfully plays with a wide array of voices and accents and has since then produced over 500 audiobooks. Now in collaboration with SAGA Egmont, his engaging narration of these famous classics is available to readers everywhere.
Mary Shelley was a British writer who lived in the period 1797-1851. She wrote many short stories and novels, which had some autobiographical, gothic, horror and science-fiction motives. She gained wide popularity with her 'Frankenstein; or, The Modern Prometheus' which was published in 1818, a period of Mary Shelley's life which she described as the time she 'first stepped out from childhood into life'. The work itself is not an ordinary gothic novel but one with philosophical motives as well. Some of her other works that are still widely read today are 'The Last Man', a story about the future destruction of the human race, 'History of a Six Weeks' Tour', a travelogue describing her and her husband's journeys and 'Mathilda', a novel depicting the relationship between a father and his daughter.
Genres: