The Battle of Vienna (1683): The History and Legacy of the Decisive Conflict between the Ottoman Turkish Empire and Holy Roman Empire
A free trial credit cannot be used on this title.
Unabridged Audiobook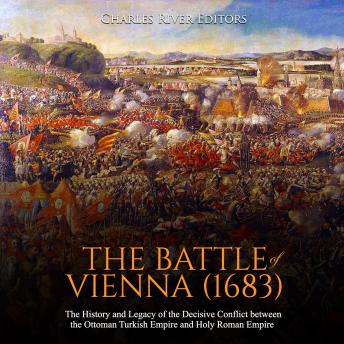 Duration:
1 hours 58 minutes
Summary:
Toward the end of the 17th century, the preeminent Islamic power in the world was the Ottoman Empire. From lowly beginnings as a vassal of the Anatolian Sultanate of Rum Osman I, from whom the empire was named, it expanded into the lands of the Christian Byzantine Empire, and by 1683, the year of the Battle of Vienna, the Ottomans ruled Asia Minor, the Middle East (with the exception of Iran), northern Africa to the borders of Morocco, the Balkan Peninsula up to the lands of modern Poland, as well as portions of Poland, Ukraine, Crimea, and Georgia. The sultan was styled "His Imperial Majesty the Padishah (Emperor), Commander of the Faithful and Successor to the Prophet of the Lord of the Universe." He was considered by his subjects to be the Caliph, the supreme leader of the faithful throughout the world. The duty of holy jihad was vested by the umma in his hands, and the sultans had successfully overpowered the forces of the Christian princes time and time again.

The long conflict between the Habsburgs and the Ottomans would finally come to a head in 1683 outside the city of Vienna, the center of Habsburg power in central Europe. It would be no exaggeration to say that Vienna was one of the most important battles not only in the conflict between Islam and Christendom, but in the entire history of the world. If the Habsburgs had lost that battle, it is highly likely that Islamic civilization rather than Christian would dominate much of Europe.
Genres: