BDSM: The Complete Guide for Dominants and Submissive. Explore Your Forbidden Fantasies. Sexual Role Play Examples
Unabridged Audiobook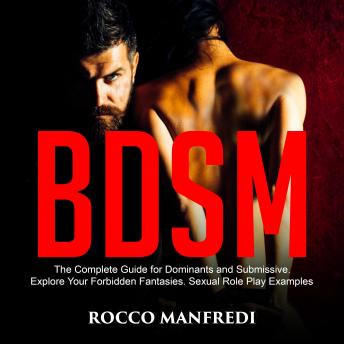 Duration:
4 hours 36 minutes
Summary:
It takes a very special kind of person to voluntarily manipulate another human being, mentally, physically and emotionally.
It takes a special kind of person to' let' these things happen, and hand them over to the person in control, giving them heart, body, and soul to do what they want to do.Acting as a Dominant is never in the purview of a dictator, nor is the submissive a shrinking violet, fearful of his own shadow. Certainly, Dom / mes may be aggressive, and submissive may be shy or reserved, but nothing is ever written in stone.
Spanking his or her backside, leaving bite marks, wearing clothes pins, playing with whips, tying up your partner (or being tied up, if you're a switch), all of these things are part of the role. Causing pain to bring pleasure, though, is a tricky line.
What You Will Learn:What Is Bdsm?Bdsm And ConsentDiscipline In BdsmWhat Is Domination & Submission?Guide To SubmissionWhat Is Sadism & Masochism?Ssc Vs. RackThe Importance Of CommunicationAnd Many More
Submissive women have needs just like anybody else. But how can a woman get her needs met when she's relinquished her power to her dominant partner? With warmth, wisdom and a down-to-earth approach, experienced submissive Kacie Cunningham analyzes the realities of the dominant-submissive lifestyle and suggests ways in which both partners can experience the greatest possible growth and pleasure.
Genres: