Boston Strong: A City's Triumph over Tragedy
Unabridged Audiobook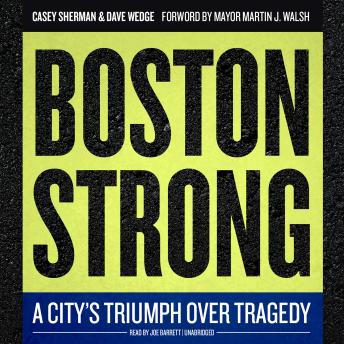 Duration:
9 hours 30 minutes
Summary:
Veteran journalists CaseySherman and Dave Wedge have written the definitive inside look at the BostonMarathon bombing with a unique, Boston-based account of the events thatriveted the world. From the Tsarnaev brothers' years leading up to the act ofterror to the bomb scene itself (which both authors witnessed firsthand withinminutes of the blast), from the terrifying police shootout with the suspects tothe ultimate capture of the younger brother, Boston Strong: A City's Triumph over Tragedy reports all thefacts-and so much more.
Based on months ofintensive interviews, this is the first book to tell the entire story throughthe eyes of those who experienced it. From the cop first on the scene to thedetectives assigned to the manhunt, the authors provide a behind-the-sceneslook at the investigation. More than a true-crime book, Boston Strong also tells the tragic but ultimately life-affirmingstory of the victims and their recoveries and gives voice to those who lostloved ones. With their extensive reporting, writing experience, and deep tiesto the Boston area, Sherman and Wedge create the perfect match of story, place,and authors.
If you're only going toread one book on this tragic but uplifting story, this is it.
Genres: