Broadcasting Happiness: The Science of Igniting and Sustaining Positive Change
Unabridged Audiobook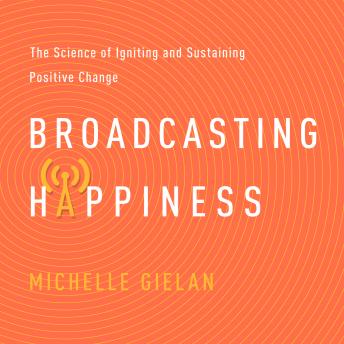 Duration:
7 hours 30 minutes
Summary:
We are all broadcasters. And the messages we choose to broadcast predict our success.

All of us constantly broadcast information to others, even when we don't say a word. Sales professionals broadcast to potential clients in a way that wins new business. Managers broadcast to their teams about projects. Colleagues broadcast to one another about available resources. The messages we choose to broadcast shape others' belief in the potential for success and their ability to create positive change.

Working as a CBS news anchor, Michelle Gielan saw how nonstop coverage of the 2009 recession left many viewers feeling paralyzed. She had an idea: a new interview series focused on positive psychology and creating happiness in the face of tragedy. "Happy Week" generated the greatest viewer response of the year.

In Broadcasting Happiness, Gielan shows us how our words can move people from fearbased mindsets, where they see obstacles as insurmountable, to positive mindsets, where they see that change is possible and take action. Using scientifically proven communication strategies, we have the ability to increase others' happiness and success at work, as well as our own, instantly making us more effective leaders.

New research from the fields of positive psychology and neuroscience shows that small shifts in the way we communicate can create big ripple effects on business and educational outcomes, including 31 percent higher productivity, 25 percent better performance ratings, 37 percent higher sales, and 23 percent lower levels of stress.

In Broadcasting Happiness, learn the seven keys of communicating more effectively to influence others and drive measurable results. Gielan, a happiness researcher and expert on positive communication, will teach you how to:

Inoculate your brain against stress and negativity by fact-checking challenges
Drive success by leading a conversation or communication with positivity
Rewrite debilitating thought patterns and turn them into fuel for resilience and growth
Deal with negative people in a way that lessens their power
Share bad news more effectively to increase future social capital
Create and sustain a positive culture at work by creating contagious optimism

In the midst of challenges such as restructuring, low retention, and some of the lowest levels of engagement in history, creating a positive mindset is only the first step. Broadcasting Happiness showcases how real individuals and organizations have used these techniques to achieve results that include tripling revenues to more than a billion dollars, raising the graduation rate by 45 percent, and shifting the work culture from toxic to thriving.

Changing your broadcast can change your life, your success, and the lives of others around you. Broadcasting Happiness will show you how!
Genres: