Budget Management for Beginners: Proven Strategies to Revamp Business & Personal Finance Habits. Stop Living Paycheck to Paycheck, Get Out of Debt, and Save Money for Financial Freedom.
Unabridged Audiobook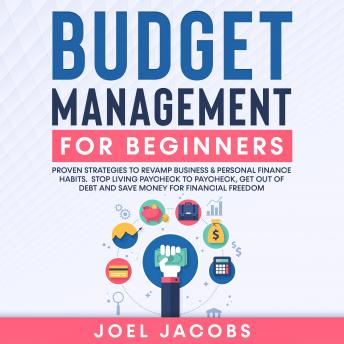 Duration:
1 hours 9 minutes
Summary:
How to Change Your Relationship with Money for Good: A Powerful Guide on Budget Management That Will Get You Out of Debt & Help You Live a Financially Free Life.

Your relationship with money dictates how your life will be. Whether you like it or not, money makes the world go round. Unfortunately, too many times we realize how important money is the second we have none.

Would you like to stop living paycheck to paycheck, barely making ends meet?

Is your goal to live a financially free life without worrying about how you'll pay the bills?

Are you willing to give yourself a chance at changing bad money habits and change your attitude towards finances?

If you answered yes to any of these questions, you're at the right place!

This powerful audiobook will show you how to change your relationship with money. After listening, you'll have a better understanding of how money works and how to make sure you never again run out of it.

Your hard-earned money should not go to waste, and this extraordinary guide is going to walk you through the process of saving for a better future, budget management, and getting out of debt.

The chapters in this audiobook cover important subjects such as:

• Taking control of your future;

• How to budget, cut expenses, and increase your income;

• How to fight the debt trap and insider debt payment strategies;

• Planning for rainy days ahead, considering insurance, and the possibility of retirement;

• A proven approach to avoiding impulse buys and maintaining momentum;

• And much more!

Filled with proven strategies to revamp business and personal finance habits, this is that one audiobook that can change your life for good. It's hard to cut your spending and switch to saving instead, but this book offers guidance and support every step of the way! So start listening today.
Genres: