Chasing Shadows
Unabridged Audiobook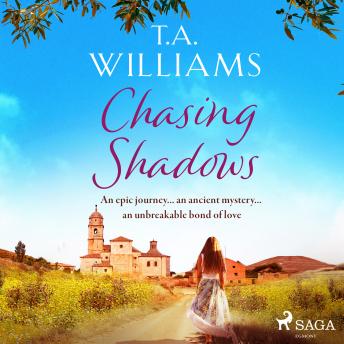 Duration:
10 hours 48 minutes
Summary:
Amy had it all - money, brains and beauty. And then the accident happened.

The Present Day: Left blind and without her family, Amy feels she needs to escape. On a trip along the Camino de Santiago - the Way of St James - she is accompanied by the mysterious and troubled Luke. Having been set up to help Amy by a mutual friend, Luke finds he is running from his past...

1314: A Templar Knight, Luc, is also running. He meets the wife of a former comrade, now blinded in a terrifying attack: Aimee. Taking her under his wing, they must journey together through a dangerous world. As they travel through the stunning scenery of Northern Spain, this couple, so very like Luke and Amy, emerge from the shadows of time carrying a treasure of inestimable value.

Chasing Shadows is an enchanting novel about the search for happiness, fulfilment... and love.


Praise for T.A. Williams

'T. A. Williams has that gorgeous way of writing a feel good story and something which will easily make you smile... he's absolutely backed up that men can write chick-lit.' Reviewed The Book (Top 1000 Amazon Reviewer)

'Fantastic story by an entertaining author!' Gilbster (Top 1000 Amazon Reviewer)

'A superbly crafted, heartwarming tale' Splashes into Books

'I had my doubts as to whether a 'bloke' would get it! To get beneath the skin of a woman and process how she'd feel in various scenarios. Let's just say I don't have any longer - you nailed it.' Crooksonbooks
-
T.A. Williams lives in Devon with his Italian wife. He was born in England of a Scottish mother and Welsh father. After a degree in modern languages at Nottingham University, he lived and worked in Switzerland, France and Italy, before returning to the UK. He's taught Arab princes, Brazilian beauty queens and Italian billionaires. He speaks a number of languages and has travelled extensively. He has eaten snake, still-alive fish, and alligator. A Spanish dog, a Russian bug and a Korean parasite have done their best to eat him in return. His hobby is long-distance cycling, but his passion is writing.
Genres: