Chasing the Devil's Tail: A Mystery of Storyville, New Orleans
Unabridged Audiobook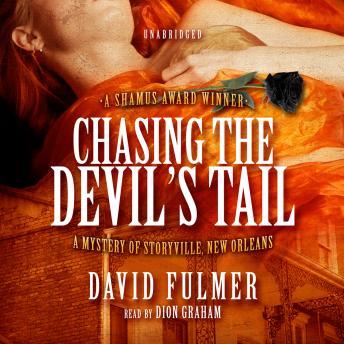 Duration:
11 hours 12 minutes
Summary:
In the raucous, bloody, red-light district of Storyville, New Orleans, in 1907, where two thousand scarlet women practice their trade in grand mansions and filthy dime-a-trick cribs, where cocaine and opium are sold over the counter, and where rye whiskey flows like an amber river, there's a killer loose. Someone is murdering Storyville prostitutes and marking each killing with a black rose.
As Creole detective Valentin St. Cyr begins to investigate, he encounters a cast of characters drawn from history: Tom Anderson, the political boss who runs Storyville like a private kingdom; Lulu White, the district's most notorious madam; a young piano player who would come to be known as Jelly Roll Morton; and Buddy Bolden, the man who all but invented jazz and is now losing his mind.
No ordinary mystery, Chasing the Devil's Tail is a chilling portrait of musical genius and self-destruction, set at the moment when jazz was born.
Genres: