Cliff's Descent
Unabridged Audiobook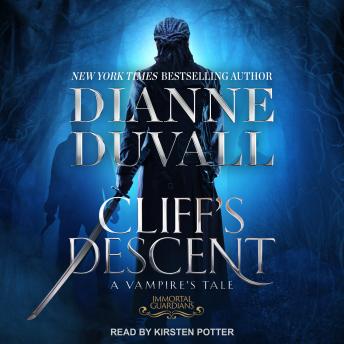 Duration:
9 hours 12 minutes
Summary:
Every mortal who works at network headquarters knows that vampires reside below them. They were the first to surrender to the powerful Immortal Guardians who hunt them. And they did so, hoping they can be saved, that the doctors and scientists the Immortal Guardians employ can halt the progressive brain damage that robs all vampires of their sanity. Though curious, Emma never thought she would meet any of the vampires who remain under heavy guard several stories beneath her office. Then mercenaries strike, bombarding the building with heavy artillery. The vampires are freed to join the fray . . . and Cliff saves her life.

From that moment on, she can't stop thinking about him. When Emma discovers a way to speak to Cliff at network headquarters, she becomes even more fascinated by him. He's smart, charming, and honorable to his core despite the darkness that lies ahead. And he seems to crave her company as much as she does his. Aware of the eyes that watch them, they keep their encounters innocent, limiting them to those of mere acquaintances. Nevertheless, their attraction grows and she soon falls in love with him even as the madness begins to claim him. Will the two of them find a way to defy the odds and find their happily-ever-after? Or will Cliff's descent consume him?

Contains mature themes.
Genres: