A Cry from the Far Middle: Dispatches from a Divided Land
Unabridged Audiobook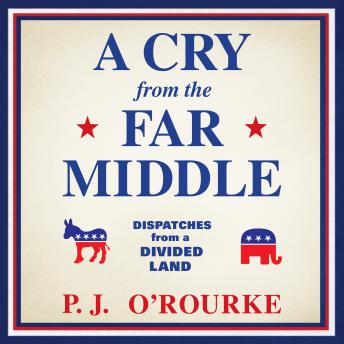 Duration:
5 hours 4 minutes
Summary:
In a time of chaos, the #1 New York Times bestselling political humorist asks his fellow Americans to take it down a notch.

Is there an upside to being woke (and unable to get back to sleep)? If we license dentists, why don't we license politicians? Is your juicer sending fake news to your FitBit about what's in your refrigerator?

The legendary P. J. O'Rourke addresses these questions and more in this hilarious new collection of essays about our nation's propensity for anger and perplexity, which includes such gems as 'An Inaugural Address I'd Like to Hear' (Ask not what your country can do for you, ask how I can get the hell out of here) and 'Sympathy vs. Empathy,' which contemplates whether it's better to hold people's hands or bust into their heads. Also included is a handy quiz to find out where you stand on the Coastals vs. Heartlanders spectrum. From the author of Parliament of Whores, None of My Business, and other modern classics, this is a smart look at the current state of these United States, and a plea to everyone to take a deep breath, relax, and enjoy a few good laughs.
Genres: