Cryptocurrency, Bitcoin, Blockchain Technology: The Master Guide for Beginners to Learn the Best Trading Strategies for Investing in Bitcoin, Crypto Trading, Ethereum, Litecoin, and Other
Unabridged Audiobook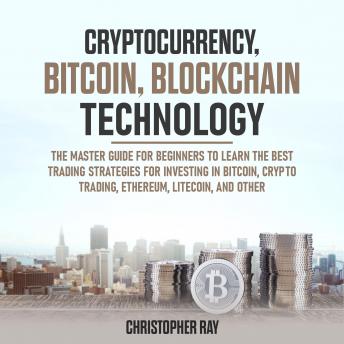 Duration:
3 hours 27 minutes
Summary:
Are you wondering how to make money out of nowhere?

How to stop working hard to create a product or to provide a service? How to just watch the money flowing in with some clicks on your computer?

This is what cryptocurrency trading looks like.

It's similar to the stock market: you buy something when it's cheap and sell it when it's expensive. The difference is that you're trading cryptocurrencies, such as Bitcoin, Ethereum, Litecoin, EOS, and many others.

Why is cryptocurrency trading a good idea?

• Cryptocurrencies are not issued by any government. This means: no one can manipulate the exchange rate, and they are safe from political crises.

• All transactions are anonymous, traced on digital ledgers that can't be modified afterward. Cryptocurrencies are almost impossible to counterfeit, so no 'fake' money are present in the crypto market.

• Exchange rates can change dramatically, so there's a chance of gigantic profits!

There is no need to say that cryptocurrency trading has its risks and a bunch of unresolved legal issues. So, it's crucial to arm yourself with high-quality information before starting.

This book is the best guide to cryptocurrency trading. It's written for beginners who want to succeed on the crypto market.

Here's a sneak peek of what lies in store:

• Beginner mistakes can lead to huge losses.

• Advanced market analysis strategies that are guaranteed to provide valuable insights.

• Complete step-by-step guide that will turn you from a beginner to a successful trader.

• The best risk management security measures to keep your wealth safe.

• And much more...

Are you ready to succeed in the cryptocurrency market and get rich?

Get your copy now!
Genres: