Dark Obsession: A Vampire Romance
A free trial credit cannot be used on this title.
Unabridged Audiobook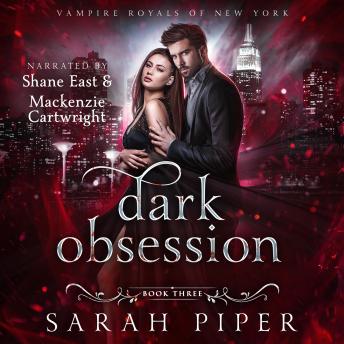 Duration:
9 hours 3 minutes
Summary:
A vicious demonic plot. A curse decades in the making. An epic love that burns hotter than the very fires of hell…

Charlotte...

All Charley's nightmares are real.

Demons. Dark witches. Her murderous uncle.

With her soul bound to an ancient demon lord and her sister taken captive by a monster, hope is in short supply.

But Charley will not go down without a fight. Not when it comes to her sister, and not when it comes to the vampire king who's claimed her heart.

Even if it means siding with a brutal enemy from her past.

Even if it means making a choice that will alter the course of her life… for eternity.

Dorian....

Dorian never wanted his father's crown or the secrets that came with it.

He never wanted to fall in love with the seductive stranger he'd ravaged in a closet, either.

But fate had other plans.

Now, with the enemies of House Redthorne lurking in every shadow, demons threatening to destroy his city, and an ancient lord of hell laying claim on the woman who's set Dorian's very soul on fire, the vampire king has only one mission:

Burn. Them. All.

Even if it means betraying his father's memory.

Even if it means making the darkest sacrifice of his immortal life...


DARK OBSESSION is the third book in the Vampire Royals of New York series, a dark paranormal romance featuring a commanding, dirty-talking vampire king and the seductive con artist who might just bring him to ruin… or become his eternal salvation. If you love sizzling romance, dark secrets, and scorching hot vampires with British accents, you need Dorian Redthorne in your life!
Genres: