Denver Travel Guide: 101 Unique, Interesting, & Fun Places to Visit, Explore, and Experience Denver Colorado to the Fullest from A to Z
A free trial credit cannot be used on this title.
Unabridged Audiobook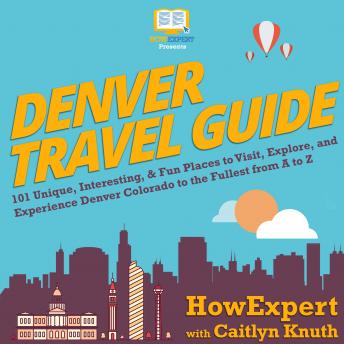 Duration:
2 hours 42 minutes
Summary:
Denver is a city of incredible growth that beckons to the masses from all walks of life. From artists to outdoor enthusiasts, professionals in finance to those who live for finding their next creative outlet, this mountainside city calls out in a dramatic fashion and it's hard for many to resist. A soaring population has led to a booming job market, drastic changes in housing options and an overwhelming sense that with urban sprawl has arrived endless possibilities.

So, what exactly is it that makes Denver so irresistible? Whether you're considering a quick trip through the city for fun or scouting for a future place to call home, Denver is made up of an ever-growing list of fantastic restaurants, shopping hubs, sporting events and cultural activities that make it one of the most unique places on the map. With a city-scape that is altering itself every day, it's worth your time to capture the heart of Denver today because tomorrow is destined to bring along something entirely new.

When you travel to Denver, you join up with those who are in pursuit of the best art, music and outdoor excursions the state has to offer. From exciting ski trips beyond the Front Range to a day indulging in modern art downtown, Denver is built on diverse passions and has no intention of slowing down when it comes to capitalizing on creativity. It is a city where contrast is celebrated and proudly protected. As new homes, apartments and condominiums hit the market at a breathtaking pace, local organizations work equally hard at preserving those historic homes that make Denver unique. With groups of people committed to making progress while honoring the past, Denver is a place where you can witness the evolution of a city within the context of its very own history.

HowExpert publishes quick 'how to' guides on all topics from A to Z by everyday experts.
Genres: