From Desert Asceticism to Vatican II: The 2,000 Year History of Christian Reform
Unabridged Audiobook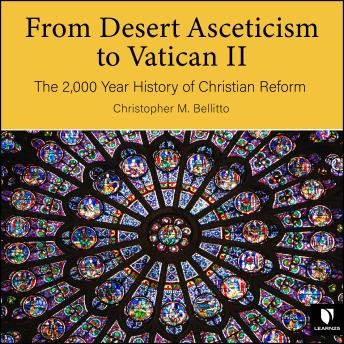 Duration:
7 hours 30 minutes
Summary:
Take a fascinating journey through the history of Church renewal and reform with celebrated historian Christopher M. Bellitto.

From the age of the apostles to Vatican II, the Catholic Church has evolved and invigorated itself. At first glance, the words "reform" and "renewal" in this context might bring to mind Vatican II and the idea of aggiornamento—"updating." But the history of reform is nearly as old as the Church itself. In this riveting, 18-lecture audio course, you will discover how the Church has revitalized itself while remaining rooted in unchanging truths throughout the millennia. Thoughtful Christians will explore the importance of balancing the past and the future, revolution and evolution, and innovation and tradition.

After Prof. Bellitto provides an overview of the study of reform and renewal, he will reveal how these elements developed in the early Church, where the first monastic communities emphasized personal reform. You will then explore the Middle Ages, looking at such events as the Carolingian Renaissance, the Gregorian Revolution, and the Church councils. After encountering Martin Luther, various Protestant reforms, and the Council of Trent, you will focus on Vatican II, examining its importance for modern-day reform.

Gain brilliant insights into the history of Church renewal in this essential course.

This course is part of the Learn25 collection and includes a free PDF study guide.
Genres: