The Devil's Dust Boxed Set
Unabridged Audiobook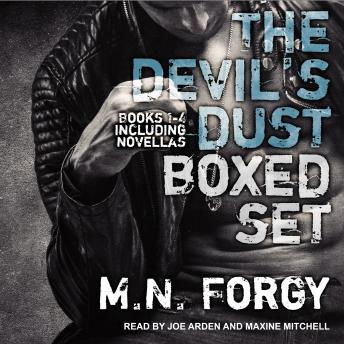 Duration:
41 hours 38 minutes
Summary:
What Doesn't Destroy Us: When Dani shows up with her provocative temper and innocent charm, Shadow begins to question his violent lifestyle. But can he trust her with his demons?

The Scars That Define Us: Not knowing who he can trust or who he can forgive has left Shadow feeling alone. As he is lying behind his rifle, he wonders if he can pull the trigger to eliminate the threat.

The Fear That Divides Us: Jessica is the only female who has Bobby distracted in his game. He's seen the marks on her body, ones which tell the horrors she's lived through. Can he help Jessica, or will it mean giving up his carefree life?

The Lies Between Us: Lip will do anything for the club without question, including serving six years in prison. But nobody could have predicted life's plan. Rugged and tattooed, Lip is no longer the man whom Cherry remembers. After his release, he came out a beast with more secrets and lies than his cage could hold.

What Might Kill Us: Bull's unsure of the direction of his life, when the answer-consisting of a terrified Mexican girl-nearly knocks him off his feet. He sees Anahi, and he wants her. But she may come with more baggage than he is ready for.

Contains mature themes.
Genres: