The Echoing Green: The Untold Story of Bobby Thomson, Ralph Branca and the Shot Heard Round the World
Abridged Audiobook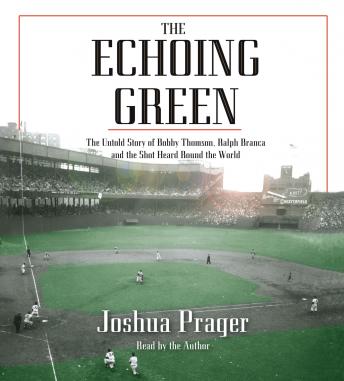 Duration:
5 hours 52 minutes
Summary:
The Untold Story Behind The Shot Heard Round The World

The 1951 regular baseball season was as good as over. The Brooklyn Dodgers led the New York Giants by three runs with just three outs to go in their third and final playoff game. Not once in the 278 preceding playoff and World Series games had a team overcome a three-run deficit in the ninth inning. But New York rallied, and at 3:58 pm on October 3, 1951, Bobby Thomson hit a home run off Ralph Branca. The Giants won the pennant. The Echoing Green follows the reverberations of that one moment from the West Wing of the White House to the Sing Sing death house to the Polo Grounds clubhouse where, in Harlem, a home run forever turned hitter and pitcher to hero and goat.

It was also in that center-field block of concrete where, after a home run, one of the Giant's coaches tucked away a Wollensak telescope. The spyglass would remain undiscovered until 2001 when Joshua Prager laid bare on the front page of the Wall Street Journal a Giant secret: from July 20, 1951, through the very day of the legendary game, the orange and black stole the finger signals of opposing catchers. The Echoing Green places that revelation at the heart of a larger story, recreating in extravagant detail the 1951 pennant race and illuminating as never before the impact of both one moment and a long-guarded secret on the lives of Bobby Thomson and Ralph Branca.

A wonderfully evocative image of the great American pastime, The Echoing Green is baseball history, social history and biography -- an irresistible story from any angle.
Genres: