Emotional Intelligence Psychology guide: Mastery your Emotions, Turn Anxiety, Depression & Phobias into Power and Positive Energy with Cognitive Behavioral Therapy, Self-Discipline & Anger Management
Unabridged Audiobook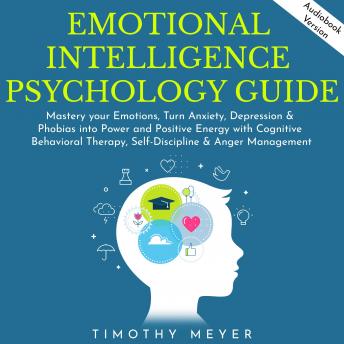 Duration:
6 hours 53 minutes
Summary:
Learn How To Stop Your Emotions From Getting The Better Of You In Crucial Situations!Do you react immediately to your emotional triggers?

Do you want to be able to remain rational and calm in stressful situations?

Do you want to turn your weaknesses into your greatest strength?

If so, then this guide is for you.

This 4-in-1 guide will help you become the master of your emotions so you can turn your anxiety, depression, anger, and phobias into your power with the help of cognitive-behavioral therapy and self-discipline!

Our emotions can alter between dangerous extremes. Veer too far to the left, and you're bordering on rage. Steer too much to the right, and you're in a state of euphoria. The best way is to find a perfect balance and sweet spot between your feelings.

That is where this book comes in. This one-of-its-kind book will help you to control your anger, phobias, depression, and anxiety and turn them your greatest power. Aside from its completeness, this guide is also available in an audiobook that sets it apart from competitors.

In this book, you'll find:


- A comprehensive guide on how to control your anger-management issues with the help of proven strategies so you can have healthy relationships
- A step by step guide on managing your anxiety and depressions with the help of cognitive behavioral therapy to aid you in living a long and happy life
- Tips and tricks to increasing your emotional intelligence so that you can have a successful career
- Various strategies to self-discipline to have a better handle on your life
- Plus, much more

So what are you waiting for?

Just scroll up and click on "Buy Now with 1-Click" to start improving your life!
Genres: