Envy
Unabridged Audiobook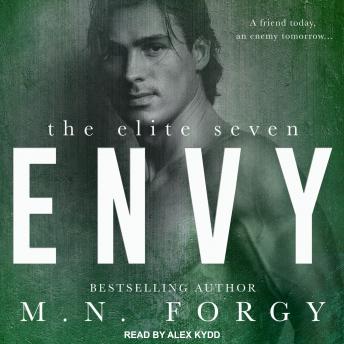 Duration:
4 hours 38 minutes
Summary:
It was temptation that broke the sinner.

People say I have everything. They're wrong. I may have looks, money, and privilege, but I don't have the one thing that really matters, the one thing I crave: a woman with eyes only for me.

I'm searching for my woman-one who will fall to her knees because I'm her king. She'll wear the crown of my tarnished name, and long for me when I'm not near. And when I am close, she'll be naked across my lap, feeling the sting of my palm across her milky skin.

You could say I'm a sinner because I'd do anything to have the perfect woman-compliant to my every need and whim-and I'm envious of every couple who walks around naive to the luxury they have.

That's why I joined The Elite, the most prestigious brotherhood in the south. It's the one place that will give me what I cannot have. Only . . . the task assigned to me is too much for my jealous eyes.

Accept your sin wisely, for the tasks given to earn your place are not for the weak . . . they're for The Elite. Those who envy have no peace. My name is Sabastian Westbrook. I am Envy.

Contains mature themes.
Genres: