Explicit Erotic Sex Short Stories
Unabridged Audiobook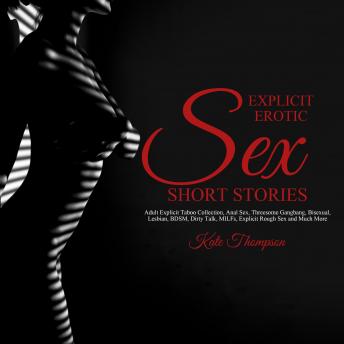 Duration:
14 hours 36 minutes
Summary:
You Are About To Discover The Hottest Collection Of Forbidden Sex Stories Involving Domination, Forced Submission, Cheating Wife, BDSM, Interracial, MFM, And Many More!
Do you crave hot sex but have to spend the evening alone?
Are you looking for tasteful erotica that's more than just emotionless sex?
Do you enjoy long, detailed erotic scenes that you can savor slowly?
This irresistible collection of explicit sex stories is exactly what you need right now!
Hot Sex Short Stories is a well-rounded collection of sex stories by Michelle Cannon, a sex educator and prolific erotica writer. In this book, Michelle offers a delightful take on the classics of sexy role-playing: a doctor who goes too far when examining his patient, a boss taking advantage of a female employee, and many, many other dirty fantasies.
This book is perfect for a lonely evening of solo pleasure - just make yourself comfortable, grab your Kindle and have fun. But it's also fun to read with your partner - just find a story that appeals to both of you, cuddle up and dive straight into the fantasy!
The stories are explicit but tastefully written so they'll appeal to men and women alike. Some of the stories portray gay and lesbian love, so you're sure to find something that really tickles your imagination no matter what your sexual preferences are!
What are you waiting for? SCROLL and BUY NOW!
Genres: