EXTREME WEIGHT LOSS HYPNOSIS: Self Hypnosis & Healthy Habits to Lose Weight Fast. How to Stop Emotional Eating and Stop Sugar Cravings. Learn to Eat Healthy & Increase Your Energy. NEW VERSION
Unabridged Audiobook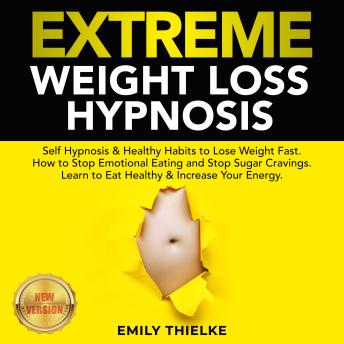 Duration:
6 hours 45 minutes
Summary:
•VERSION SUITABLE FOR BOTH PUBLIC AND HEALTH PROFESSIONALS•Kickstart your Weight Loss and trick your brain into eating healthy with this Powerful Guide!Do you want to lose weight in a simple, natural way, while still enjoying the foods that you love?

Tired of complex and demotivating diets?

Looking for a proven way of beating overeating and stopping sugar cravings in their tracks?

With a detailed and insightful breakdown of self-hypnosis, this powerful guide arms you with the essential tools you need to lose weight in a fast, easy, and all-natural way. Covering the basics of weight loss, hypnosis, and what it means to be overweight, inside you'll find practical ways to transform your mindsets and see food in an all-new way.

Plus, with a wealth of advice on fitness, proven hypnosis techniques that you can perform in no time at all, and a weight-loss plan designed to make getting started easier, now you can take control of your health like never before.

Inside:-- Weight Loss 101 – Simple Tricks For Losing Weight

-- Understanding Obesity, Being Overweight, and How It Impacts Your Life

-- The Secret To Building a Diet Plan That Works For You

-- Essential Techniques and Strategies For Self-Hypnosis

-- A Breakdown of How Hypnosis Works – How You Can Hack Your Mind To Stop Craving Sugar

-- Specials Self-Hypnosis and Guided Meditations

Much More!

So if you're looking for a proven, easy way of losing weight and stopping sugar cravings, then this is the book for you.

Even if you've tried other weight loss methods before, Extreme Weight Loss Hypnosis offers easy-to-understand instructions and highly-effective strategies for taking charge of your diet.

Discover the secret to Rapid, Simple Weight Loss today!
Genres: