Failure is Never Final: How to Bounce Back Big From Any Defeat
Unabridged Audiobook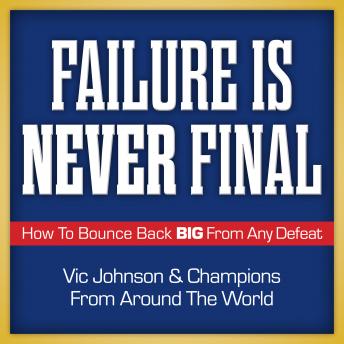 Duration:
4 hours 45 minutes
Summary:
In this audiobook, you'll find countless examples, lessons, and insights into what it means to feel like you've failed and come out stronger on the other side. You'll learn insights from physicians, a golf professional turned college professor, entrepreneurs, a sales executive-and many more.

As the world judges them, they are successful. They've achieved notoriety and prosperity in their chosen fields. However, you might be surprised to learn just how much failure they had to endure on their way to the top.

In other chapters, some of our co-authors will share the story of failures who inspired them by their refusal to accept failure as finality.

And that's what this audiobook is about. Not about fearing failure, but about recognizing the role of failure in your personal development. It will show you that what you believe to be failures are often just opportunities in disguise-or, at the very least, a form of feedback that can help you on your journey and hone your focus so you're even stronger tomorrow.

Lots of great lessons and inspiration await you

get started listening today!
Genres: