Fifty Gothic Tales
Unabridged Audiobook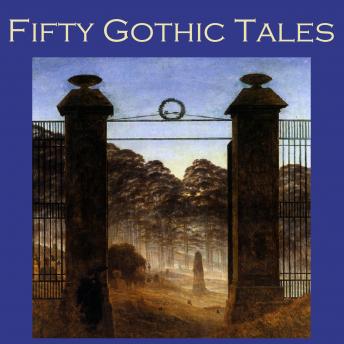 Duration:
28 hours 56 minutes
Summary:
A creepy collection of the very best Gothic tales from the masters of suspense, horror, supernatural and occult fiction.

1. The Room in the Tower by E. F. Benson
2. Afterward by Edith Wharton
3. The Green Light by Barry Pain
4. Fingers of a Hand by H. D. Everett
5. The Squaw by Bram Stoker
6. The Dancing Partner by Jerome K. Jerome
7. Lost in a Pyramid by Louisa M. Alcott
8. The Girl who was Tired of Love by Leonard Merrick
9. The Parasite by Sir Arthur Conan Doyle
10. The House with the Brick Kiln by E. F. Benson
11. The Idiot by Arnold Bennett
12. The Three Sisters by W. W. Jacobs
13. The Fall of the House of Usher by Edgar Allan Poe
14. Sredni Vashtar by Saki
15. The Dead Hand by Wilkie Collins
16. Outside the Door by E. F. Benson
17. The Death Mask by H. D. Everett
18. A Professor of Egyptology by Guy Boothby
19. The Ring of Thoth by Sir Arthur Conan Doyle
20. The Man of the Night by Edgar Wallace
21. The Perfect Murder by Stacy Aumonier
22.The Mines of Falun by E. T. A. Hoffmann
23.The Pit and the Pendulum by Edgar Allan Poe
24. The Bus Conductor by E. F. Benson
25. His Brother's Keeper by W. W. Jacobs
26. The Furnished Room by O. Henry
27. The Dream by A. J. Alan
28. Query by Seamark
29. The Man who was Blind by Edwin Pugh
30. The Stone Dragon by R. Murray Gilchrist

And twenty more terrifying Gothic tales.
Genres: