For the Love of Community Engagement: Insights from a personal expedition to inspire better public participation
A free trial credit cannot be used on this title.
Unabridged Audiobook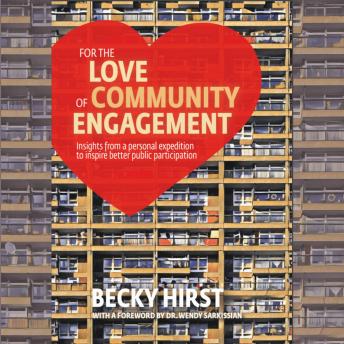 Duration:
7 hours 43 minutes
Summary:
Becky Hirst is a skilled community engagement practitioner who is willing to tell it how it is. And she has grave concerns for the future of public participation.

To have a thriving society, we need people and communities who are actively involved in civic life. For politicians, public servants, corporations, or planners to engage with communities in any positive way, they need to learn a new way of doing things.

A wealth of sophisticated public consultation slogans, methods and frameworks are frequently seen. But we are close to breaking point. Some fundamental things are missing. And, right now, we need to focus our energies on them. As a matter of urgency.

Whilst this book shines a clear light of day on hard truths we can't escape, the stories within it are about love, passion, enthusiasm and a heartfelt commitment to community empowerment and community building.

Becky's expedition through her career to date is authentically presented as 20 easy-to-follow key insights, combined with 100 conversation starters to provide the reader with calls to both reflect and act.

For the Love of Community Engagement seeks to inspire better public participation – and that it will!
Genres: