Frankenstein
Abridged Audiobook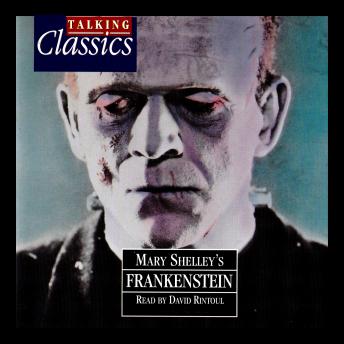 Duration:
2 hours 22 minutes
Summary:
The story of Victor Frankenstein, a Swiss scientist, starts and ends in the frozen wastes of the Arctic. There, he tells Robert Walton, his English rescuer, about his obsessive quest to create life and its disastrous results. He has attempted to make a superhuman and succeeded in producing a terrible monster instead. The being is physically repulsive and Frankenstein, terrified by what he has done, abandons him. Neglected and uncared for, the creature turns to evil. Many of the other characters, from the angelic Elizabeth to the faithful friend Henry Clerval, innocently face their violent dooms because of Frankenstein's quarrel with his creature.
1. ARCTIC MEETING. Robert Walton, an English explorer, describes in letters to his sister his long-planned journey to the Arctic. He is in high spirits as he sails north, but is puzzled by sighting a giant man on a sledge on the surrounding ice. The next day the ship picks up a man from an ice floe. At first the stranger is too weak to talk. When he recovers, he finds a sympathetic listener in Walton and starts to tell his life story.

2. CONFESSION. He is, he says, Victor Frankenstein, son of a distinguished Genevan family who adopted Elizabeth Lavenza, the orphaned daughter of a Milanese nobleman. He grows up in idyllic surroundings on Lake Geneva, with no interest in the usual boyish pursuits. Instead, he is obsessed with alchemy. At the age of 17, Frankenstein goes to Ingolstadt University, where Kempe, professor of Natural Philosophy, and Waldman, lecturer in Chemistry, become his teachers. He excels at his studies and is keen to discover the origins of life itself. He finds a way to animate lifeless matter and begins to create a giant.

3. BIRTH OF A MONSTER. After long labours, Frankenstein succeeds in animating his creation but he is appalled by its hideous appearance and flees. Outside, he meets his old friend Henry Clerval, come to visit him. They return to his rooms, where Frankenstein is relieved to find his creature has vanished. The strain of the preceding months takes its toll on him and he falls seriously ill. Later, he receives the terrible news that William, his little brother, has been murdered. At once he derides to return home to Geneva.

4. EVIL DEEDS. Frankenstein glimpses the Monster in a storm and is sure he is William's murderer. But Justine Moritz, who is staying with the family, is hanged for the crime, In the Alps, Frankenstein meets the Monster and accuses him of causing the deaths of William and Justine. The Monster blames Frankenstein for being at the root of his evil behaviour and tells his story.

5. AN OUTCAST'S TALE. When he first came to his senses, says the Monster, he felt cold. He took what clothes he could find and left Frankenstein's rooms. Outside, it was winter and all seemed strange to him. Any people he approached drove him away with shrieks of disgust but he found a hut where he could shelter. He also found that he could secretly watch a family in the adjoining cottage. Gradually, he learnt their language, and through them something of the world. One day, a beautiful stranger called Safie arrived, delighting Felix, the son of the family.

6. A SAVAGE AT LARGE. The Monster learnt that his hosts were exiled aristocrats and that Safie had been all but promised to Felix in marriage. He also found and read several books, while papers in his coat pocket revealed his origins. Finally, he entered the cottage when only the elderly, blind father was there. They talked amiably until the sudden return of the others. He was driven out and fled, filled with hate for all mankind. He made his way to Geneva and near the city he encountered little William. When the Monster discovered that the boy was related to Frankenstein, he killed the child. The Monster then escaped to the mountains. Frankenstein is appalled by this tale but agrees to create a mate for the Monster provided he would then shun all humanity. He goes to Britain with Clerval to complete his tasks. Alone in the Orkneys he creates a female monster but destroys it in sudden repulsion.

7. REVENGE SWORN. The Monster sees Frankenstein kill his mate, and swears revenge because Victor has broken his promise. Frankenstein reaches Ireland, where he is arrested for the murder of Clerval. The Monster has struck again, he realizes, and he suffers another long collapse into a fevered state. He is released through the intervention of his father and he returns to Geneva to marry Elizabeth, as long planned. He tries to protect himself from the vengeful being, but it is Elizabeth whom the Monster kills that night. Soon after, Frankenstein's father dies of grief. Maddened, Victor pursues his adversary across the Mediterranean and the Black Sea into the wilds of Russia and so to the northern ice floes.

8. WRONGS RIGHTED. Walton takes up the story again in his letters to his sister Margaret, relating Frankenstein's dying regrets that all his hopes and ambitions of creating a new life have come to nothing. The scientist dies soon after. Walton hears sounds coming from Frankenstein's cabin and rushes in to see the Monster leaning over the body of his creator, asking to be pardoned. Then the Monster leaps out of the cabin, declaring his intention to end his own life.
Genres: