Full Figured 5: Carl Weber Presents
Unabridged Audiobook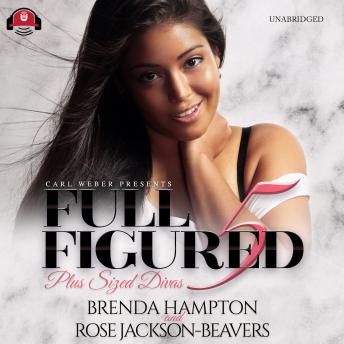 Duration:
11 hours 57 minutes
Summary:
With his Full Figured series, Carl Weber brings together some of Urban Books' hottest authors to entertain readers with their stories about the lives and loves of beautiful full-figured women.

When Desa Rae Jenkins ended her tumultuous relationship with Roc, it seemed like the appropriate thing to do; but now she's second-guessing her decision. Roc moved away to Kansas City, leaving street life back in St. Louis up to the brothas who can handle it. He continues to live his life on the edge, though, and when he returns to St. Louis, Desa Rae shows up at his doorstep to reconcile. Roc is reluctant to go there with the one woman who ripped his heart from his chest. He's determined not to let Desa Rae wiggle her way back in, but this full-sized diva is a heavy-hitter who won't give up without putting up a good fight. Win or lose, she refuses to back down, but with Roc's baby mama still in the way, there can be only one winner.

When Malika Williamson hired Travis Ingram, she never imagined that he'd be doing a lot more than just maintaining the company's computer system. Not only has he ignited a fire in Malika's heart, but his mere presence causes backstabbing, confusion, and sexual tension at the office. Malika finds herself transformed from upstanding and happily married to an oversexed, overheated adulteress. Will this full-figured beauty be able to control the passion that threatens to destroy everything she's worked so hard to achieve?
Genres: