Full-Time Rv Living. Traveling Without Boundaries (Extended Edition): The Modern Nomad's Complete Handbook for Full-time Rv Living. Learn How Rvers Live Life on Their Own Terms
A free trial credit cannot be used on this title.
Unabridged Audiobook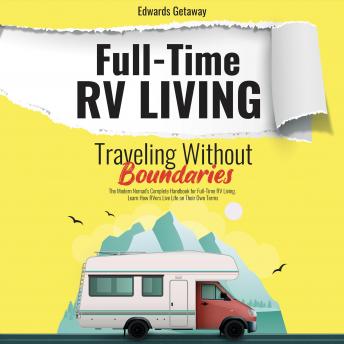 Duration:
3 hours 3 minutes
Summary:
Find Freedom on the Road

RV life is a big decision. It's not something that most people just jump into. It takes planning, money and there are lots of unknowns involved. But it doesn't have to be as scary as you think!

The thing about traveling full time is that it's a lifestyle change like no other. Some people love it and never want to go back home again, while others simply can't deal with the uncertainty day after day for months at a time.

Thousands upon thousands of people have made a life on the road work for them. It can definitely be done, and it's getting easier every day. But it doesn't happen automatically.

The Modern Nomad's Complete Handbook for Full-Time RV Living has been designed to help you realize your dream. Written by Edward Getaway, it contains an all-encompassing overview of full-time RV living. Whether you're brand new or already putting your plan into motion, this guide will help you get started on the right foot and answer any questions you have.

Learn how to:


- RV Living, RV Traveling and How to Do It All Without Sacrifice or Compromise
- The top reasons why Full-time RV living is not for everyone. Get a complete list of what's crucial in an RV before deciding to live life on your own terms.
- A Complete List of Common Pitfalls When Pursuing Full Time RV Living And How You Can Avoid Them Like A Pro.
- All the different kinds of RV's and where they're best suited to travel. You'll be able to narrow down your choices based on location, budget, and what you want the RV for specifically (family, desert exploring, beach bumming, etc.)

There's no reason to keep dreaming about life on the road when it can be yours right now. Stop fantasizing about a better future. Seize control of your destiny.

End the waiting game and learn how to become a modern nomad today!
Genres: