Generation Text: Raising Well-Adjusted Kids in an Age of Instant Everything
Unabridged Audiobook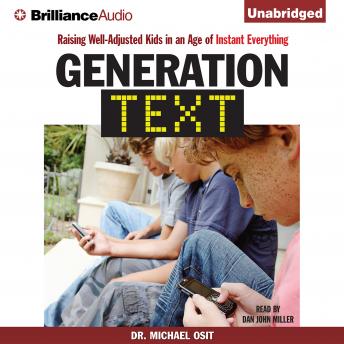 Duration:
11 hours 2 minutes
Summary:
For today's kids, technology such as computers, the Internet, cell phones, and satellites is an assumed presence. Between texting, e-mail, gaming, instant-messaging, and online commerce, their world is one of constant electronic interaction through which they have almost instant access to everything from information to merchandise to other people. In this culture of instant gratification and potential excess, parenting has become a bigger challenge than ever.
Generation Text examines the ways in which children's identities are shaped by the world around them…and how, with an absence of meaningful barriers between impulse and the ability to act on them, parents can help children learn to make intelligent choices and manage the potential overload successfully.
Dr. Michael Osit, has worked with children and teens for more than thirty years, and has helped families challenged by the new order of access and excess—and the temptations and dangers that go with it. His advice will help you help your children develop key social skills, a healthy identity, and a sense of purpose and accountability. Generation Text provides the sage advice and proven parenting strategies for raising confident, happy, and safe kids who will be fully equipped for their future.
Genres: