Golf Lessons: The Ultimate Guide on How to Play Golf, Learn Everything About Golf from Fundamentals to Etiquette and How to Master Your Golf Swing
Unabridged Audiobook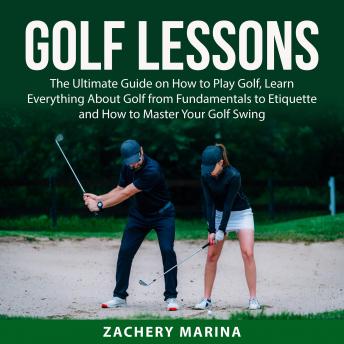 Duration:
0 hours 24 minutes
Summary:
Golf Lessons: The Ultimate Guide on How to Play Golf, Learn Everything About Golf from Fundamentals to Etiquette and How to Master Your Golf Swing


Does your golf swing need improvement? Is it not where you think it's supposed to be? If you want to improve how you play golf, this audiobook is the perfect guide for you. The game of golf can be quite entertaining and can provide those who know how to play it with hours of fun and joy. Golfing can also be a way for people to get rid of some of their aggression or be used as a way to relieve stress. One of the main things you need to learn and perfect when it comes to golf is your swing. Many people make the mistake of trying to swing a golf club like it is a baseball bat and this never works in their favor. There is a certain level of power that must be applied by the golfer but in all honesty the club and your body create much of the power, not your arms.

This audiobook will teach you everything you need to know on how you can improve your golf swing. You will learn how to perfect it and do it with accuracy and style. You will learn how to better approach shots, find your way out of the rough and improve your mental attitude when playing golf.

This audiobook will cover the following topics:


- A Golf Club And Its Swing Weight
- Etiquettes To Follow While Playing Golf
- Golf Swing Trainers
- How To Find The Perfect Golf Resort
- Learning All About Your Golf Swing
- Golf Training Precision Fitness
- And many more!

If you want to be able to impress people and conquer the course with impressive skills, it is important that you work on your swing until it is nearly flawless. If you want to learn more, download your copy of Golf Lessons today!
Genres: