Great Classic Family Favorites
Unabridged Audiobook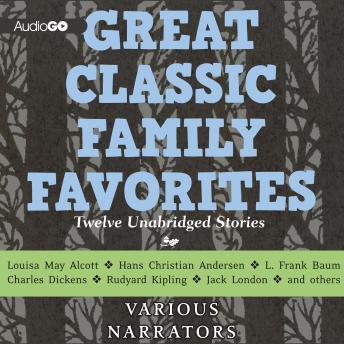 Duration:
6 hours 10 minutes
Summary:
This inspiring anthology collects enduring and entertaining stories that have enthralled young and old, by the cherished authors whose tales have captivated children for generations. Perfect for the family car trip or at-home listening, these recordings sparkle with the wit and wonder of time-tested storytelling.
This audio recording includes:
- "Moni the Goat-Boy" by Johanna Spyri
- "An Adventure on Island Rock" by L. M. Montgomery
- "Tom Thumb" by the Brothers Grimm
- "The Tin-Man and the Scarecrow" by L. Frank Baum
- "The Emperor's New Clothes" by Hans Christian Andersen
- "How the Rhinoceros Got His Skin" by Rudyard Kipling
- "The Mouse" by Saki
- "Accidental Magic" by E. Nesbit
- "Mermaids" by Louisa May Alcott
- "Little Nell" by Charles Dickens
- "The Little Mermaid" by Hans Christian Andersen
- "The Sun-Dog Trail" by Jack London.
Genres: