Greek Mythology: Myths and Legends of Gods, Goddesses, Heroes and Monsters - Beliefs and Traditions From Ancient Greek
A free trial credit cannot be used on this title.
Unabridged Audiobook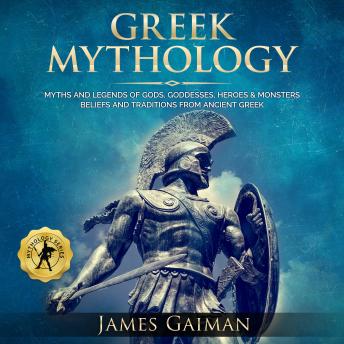 Duration:
9 hours 56 minutes
Summary:
Do you know that the Olympians weren't the original immortals?Greek mythology continues to appear in popular movies and books today, but have you ever wondered about where these characters started out? 

Discover the origins of your favorite characters from Greek mythology with this collection of profiles to tell you who's who in classical lore!

Gaiman introduces listeners to the wondrous and terrifying world of superhuman beings, such as Medusa, Helios, Sirens and Psyche, and the glory of gods like Zeus, Apollo, Mars and Artemis - brought magically to life through heroes such as Perseus, Theseus, Oedipus, and others.

Discover the secrets of Eros, Aphrodite and other gods and goddesses of love and procreation.

Relive the siege of Troy, from its unbelievable beginning through its astounding conclusion

This culture gave us science, philosophy, and a rich mythology that never stops enticing us.

With an accessible writing style that delves into the thoughts, feelings, desires, and motivations of every character, these mythical figures and their compelling stories will resonate with listeners as they are guided through perilous and tragic adventures. 

To appreciate the power of their stories for yourself and become absorbed in a world so like and yet unlike our own, buy this audiobook NOW!
Genres: