Gretel Series Boxed Set: Books 1-4
Unabridged Audiobook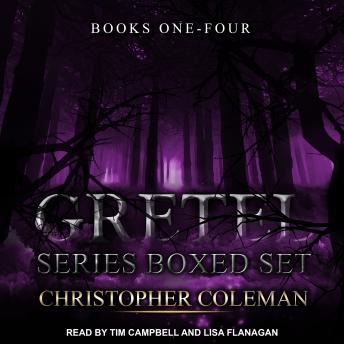 Duration:
35 hours 41 minutes
Summary:
Gretel: There is an ancient evil in the Back Country, dormant for centuries but now hungry and lurking. When it sets its sights on an unsuspecting mother one routine morning a quiet farming family is suddenly thrust into a world of unspeakable terror, and a young Gretel must learn to be a hero.

Marlene's Revenge: Rumors are reaching the far shore that the evil Witch of the North is alive and strong. Everyone Gretel loves is in danger, and she must summon a new level of power and conviction to end her family's nightmare forever.

Hansel: Years have passed since Marlene's death, and Gretel has fled to the Old World. Gretel is taken by Gromus, an ageless mythical figure known only by locals, but whose reputation and power is steadily growing. It is now up to Hansel to save his sister from a horror as old as the book that unleashed it to the world.

Anika Rising: The cruel, addictive infection of Marlene's poison has protected Anika from the finality of death. But the resurrection is not without a price. Anika sees suicide as the only option, until she learns of a new terror in the world, one related to the Witch of the North. Anika must now find and destroy it before it kills her children.
Genres: