The Guinea Pig Diaries: My Life as an Experiment
Unabridged Audiobook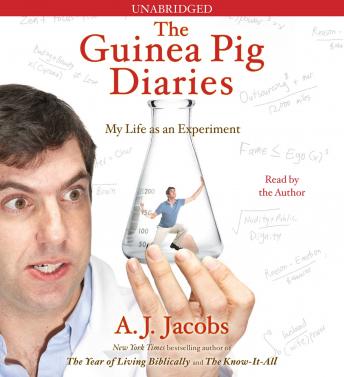 Duration:
7 hours 0 minutes
Summary:
A collection of A.J. Jacobs's hilarious adventures as a human guinea pig, including "My Outsourced Life," "The Truth About Nakedness," and a never-before-published essay.

One man. Ten extraordinary quests.

Bestselling author and human guinea pig A.J. Jacobs puts his life to the test and reports on the surprising and entertaining results. He goes undercover as a woman, lives by George Washington's moral code, and impersonates a movie star. He practices 'radical honesty,' brushes his teeth with the world's most rational toothpaste, and outsources every part of his life to India—including reading bedtime stories to his kids.

And in a new adventure, Jacobs undergoes scientific testing to determine how he can put his wife through these and other life-altering experiments—one of which involves public nudity.

Filled with humor and wisdom, My Life as an Experiment will immerse you in eye-opening situations and change the way you think about the big issues of our time—from love and work to national politics and breakfast cereal.
Genres: