Healthy Aging Secrets: The Ultimate Guide on How to Age Gracefully and Maintain Your Youth, Learn the Best Practices and Effective Methods on How to Stay Fit, Look and Feel Young Forever
Unabridged Audiobook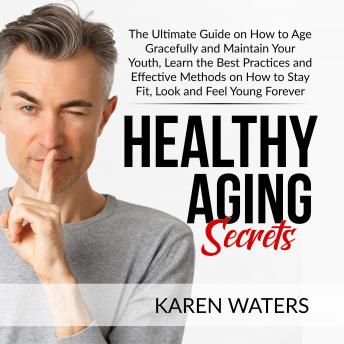 Duration:
0 hours 32 minutes
Summary:
Healthy Aging Secrets: The Ultimate Guide on How to Age Gracefully and Maintain Your Youth, Learn the Best Practices and Effective Methods on How to Stay Fit, Look and Feel Young Forever


Most people are afraid of aging. They think when they reach 60 years old, there is nothing much they can do. While it's true that one can look forward to retirement because they can rest more, it doesn't mean that's all you can do. You can actually use this time to reclaim your youth. 

This audiobook will teach you how to take better care of yourself in your older years. You will learn everything about the proper diet and exercise so you can stay healthy and fit and do more. Here is a preview of what you will learn in this audiobook: Steps to Begin Exercise, You're Only As Old As You Feel, Ways to Stay Active in Your Golden Years, The Pillars to Great Exercise, Sample Gym Exercise Routine, Seniors and Weight Lifting: Is It Safe?, Over 65? Listen Up! Exercise Can Improve Your Sex Life, Live To Be A Young 100, and many more!

If you are healthy and fit, you will feel great and this is a very large factor in how you can live a happy and fulfilling life in your retirement years. To learn more, download your copy of Healthy Aging Secrets today!
Genres: