Heat Wave
Unabridged Audiobook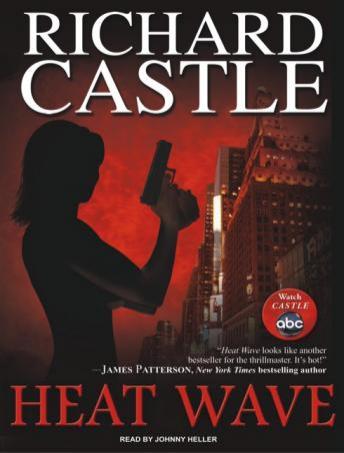 Duration:
6 hours 30 minutes
Summary:
A New York real estate tycoon plunges to his death on a Manhattan sidewalk. A trophy wife with a past survives a narrow escape from a brazen attack. Mobsters and moguls with no shortage of reasons to kill trot out their alibis. And then, in the suffocating grip of a record heat wave, comes another shocking murder and a sharp turn in a tense journey into the dirty little secrets of the wealthy. Secrets that prove to be fatal. Secrets that lay hidden in the dark until one NYPD detective shines a light.

Mystery sensation Richard Castle introduces his newest character, NYPD homicide detective Nikki Heat. Tough, sexy, and professional, Nikki carries a passion for justice as she leads one of New York City's top homicide squads. She's hit with an unexpected challenge when the commissioner assigns superstar magazine journalist Jameson Rook to ride along with her to research an article on New York's Finest. Pulitzer Prize winner Rook is as much a handful as he is handsome. But his wisecracking and meddling aren't Nikki's only problems. As she works to unravel the secrets of the murdered real estate tycoon, she must also confront the spark between them. The one called heat.

Castle, the hit ABC television series, premiered in March 2009. The main character, Richard Castle, is the bestselling mystery author of the critically acclaimed Derrick Storm novels. The hard-nosed but sexy Detective Kate Beckett, with whom Castle is paired up, provided the inspiration for Nikki Heat.
Genres:
1 of 1 people found this review helpful.

1 of 1 people found this review helpful.