The Hidden Diary of Marie Antoinette: A Novel
Abridged Audiobook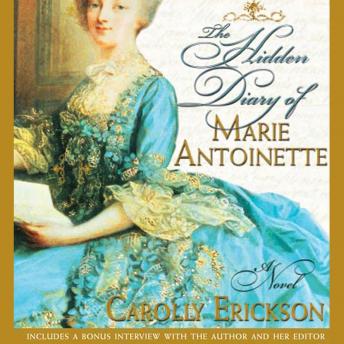 Duration:
5 hours 16 minutes
Summary:
For more than two centuries Marie Antoinette has been vilified as the heartless, frivolous queen who spent lavishly while her people starved. Now, in the tradition of The Birth of Venus and The Other Boleyn Girl, this moving novel tells her side of the story.

Imagine that, on the night before she is to die under the blade of the guillotine, Marie Antoinette leaves behind in her prison cell a diary telling the story of her life-from her privileged childhood as Austrian Archduchess to her years as glamorous mistress of Versailles to the heartbreak of imprisonment and humiliation during the French Revolution. Carolly Erickson takes us deep into the psyche of France's doomed queen: her love affair with handsome Swedish diplomat Count Axel Fersen, who risked his life to save her on the terrifying night the Parisian mob broke into her palace bedroom intent on murdering her and her family; her harrowing flight from France in disguise, her recapture and the grim months of harsh captivity; her agony when her beloved husband was guillotined and her beloved son was torn from her arms, never to be seen again.

Erickson brilliantly captures the queen's voice, her hopes, her dreads, her suffering. We follow, mesmerized, as she reveals every detail of her remarkable, eventful life, from her teenage years when she began keeping a diary to her final days when she awaited her own bloody appointment with the guillotine.
Genres: