Hillary's America
Unabridged Audiobook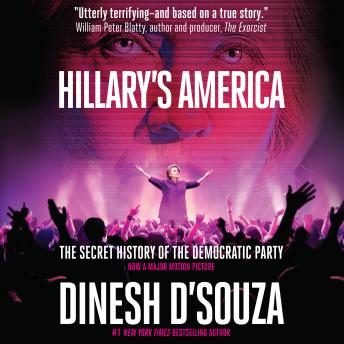 Duration:
10 hours 29 minutes
Summary:
Bestselling author Dinesh D'Souza has a warning: We are on the brink of losing our country forever. After eight years of Obama, four years-or possibly eight years-of Hillary Clinton as president of the United States would so utterly transform America as to make it unrecognizable.

No more will America be a land of opportunity. Instead, it will be a land of rapacious crony capitalism, run solely for the benefit of friends of the Obamas and the Clintons and the Democratic Party. It will, in fact, be the fulfillment of a dream the Democratic Party has had from the beginning ... a dream of stealing America for the politically favored few.

In this, his shocking new book-accompanied by a sweeping, dramatic documentary film-D'Souza reveals the sordid truth about Hillary and the secret history of the Democratic Party:

• Why Hillary is the most corrupt presidential candidate ever

• Hillary, the enabler: the long-standing Democratic political war against women, now led by a woman who has defended an alleged rapist

• How the Democratic Party-the party of slavery, segregation, and eugenics- remains the party of racism, welfare enslavement, and "liberal fascism"

• How Hillary Clinton's political mentor was, literally, a cold-blooded gangster, and how progressive gangsterism shapes her worldview

• Foreign policy for sale: how the Clintons see foreign policy not in terms of national interest, but in terms of personal profit

• Obama's heir: how, if elected president, Hillary will entrench leftism in America's federal bureaucracy and the Supreme Court in ways that will haunt us for generations to come

America's only hope, says D'Souza, is a resurgent Republican Party, the party of Lincoln and Reagan; the party of civil rights, economic opportunity, and freedom; the party that truly has the opportunity to not only save America, but make it great again.
Genres:
1 of 1 people found this review helpful.

1 of 1 people found this review helpful.

1 of 1 people found this review helpful.