How to Analyze People: A Guide to Personality Types, Human Behavior, Dark Psychology, Emotional Intelligence, Persuasion, Manipulation, Speed-Reading People, Self-Awareness, and the Enneagram
A free trial credit cannot be used on this title.
Unabridged Audiobook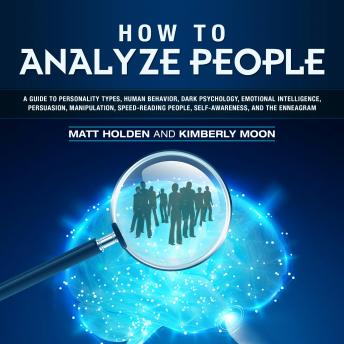 Duration:
6 hours 25 minutes
Summary:
If you've always wanted to learn more about yourself and discover how to analyze people, then pay attention...

Two manuscripts in one audiobook:


- How to Analyze People: Unlocking the Secrets of Personality Types, Body Language, The Dark Psychology of Human Behavior, Emotional Intelligence, Persuasion, Manipulation, and Speed-Reading People
- Enneagram: An Essential Guide to Unlocking the 9 Personality Types to Increase Your Self-Awareness and Understand Other Personalities So You Can Build Better Relationships and Improve Communication

In part 1 of this audiobook, you will learn about:


-  How we connect
- The art of a category
- Looking inward
- Human body's language
- What humans hold inside
- Intelligence
- To convince the mind
- Two-Sided coin
- The science of quick-slicing
- What it all means, and, much much more!

Some of the topics covered in part 2 of this audiobook include:


- The unique and far-reaching history of the Enneagram of Personality
- Exploration of personality types 
- Case examples for comparison
- Ways to interpret your and others' types
- Communication styles of each of the types
- How to improve your communication
- How to use the Enneagram to build better relationships
- Self-awareness and personality
- Why we are the way we are
- Childhood development and personality
- How to reach the authentic self
- How to have acceptance and kindness for yourself and others
- Info on the triads, wings, and variants
- Spiritual grounding in the Enneagram
- Methods for solving problems
- Coping skills, good and bad
- Questions to ask yourself
- Tips for self-realization, and much, much more

If you want to learn more about how to analyze people and the enneagram, listen to this audiobook.
Genres: