Hypnosis Bundle 50h: Weight Loss Hypnosis, Gastric Band Hypnosis, Sleep Meditation, Sleep Hypnosis, Past Life Regression
Unabridged Audiobook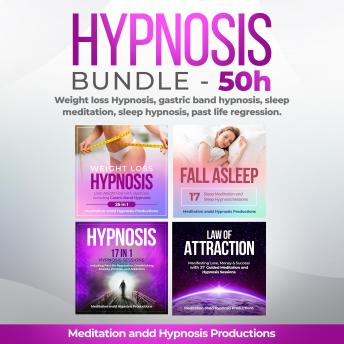 Duration:
50 hours 1 minutes
Summary:
This is the longest hypnosis audibook that exist in the world!With more than 50h of content, divided across 86 unique sessions, this hypnosis bundle is truly the ultimate hypnosis audibook.This bundle will make you access powers you don't know you have. Ever heard the saying that we only use 20% of our brains capacity? That's absolutely true and you can access the remaining 80% with the help of hypnosis.

This 4-in-1 bundle consist of all the books in the series 'Hypnotherapy for Mindfulness' and include sessions that will help you:


- Lose weight fast and easily
- Get better & deeper sleep
- Understand your past more deeply
- Eliminate Negative thinking and self-talk
- Stop procrastinating and start taking action
- Eliminate limiting beliefs
- Heal Emotional trauma
- Overcome phobias and addictions
- Manifest love and sucess

With the extensive coverage, this audibook is indeed the only audibook on hypnosis you will ever need. Both Female and Male narrators have been used and the sessions come both with & without background music. This goes to prove that this bundle was created to meet everyone's needs - including yours!

Don't wait any longer! Scroll up and buy this audibook now!

Begin your journey towards a healthier, empowered and happier you!

Scroll up and buy this hypnosis bundle now!
Genres: