Hypnotic gastric band: The beginners Guide for men and women for quickly and permanently Weight Loss through Self Hypnosis, Affirmations, Deep Sleep Meditation, Emotional and Binge Eating Suppression
A free trial credit cannot be used on this title.
Abridged Audiobook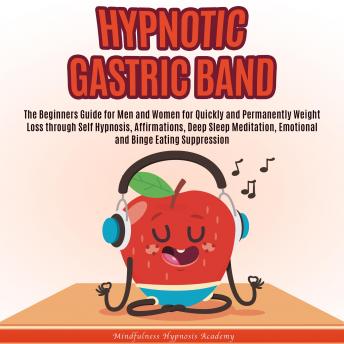 Duration:
3 hours 0 minutes
Summary:
Do you want to lose weight quickly and permanently through hypnosis?

Are you sick and tired of trying so many weight loss diets that don't yield any results?

Are you looking for a protocol that guarantees fast results without too many restriction? 

If you answered 'yes' to this three answers, thank keep reading/listening...

Hypnotic Gastric Band is a psychological procedure that can help to convince the subconscious mind that a gastric band has been fitted. 

And how does this method work?

This audiobook will guide you through a state of hypnosis, so you can train your brain to create a virtual gastric band. Together with the power of attraction, he will empower you to control your eating habits and form a positive relationship with your body. 

This technique shrinks your stomach's capacity to store food, so you feel fuller, faster. In this way your body will behave exactly as if it were physically present. There's no physical surgery, no scarring and no forbidden foods. 

The step-by-step system - explained deeply - contains a mix between hypnosis and hypnotherapy techniques that send "burn fat" and "weight loss" messages to your subconscious mind, helping you to reach in an approved and scientific way your diet/fit goals.
Genres: