If Life is a Bowl of Cherries, What Am I Doing in the Pits?
Unabridged Audiobook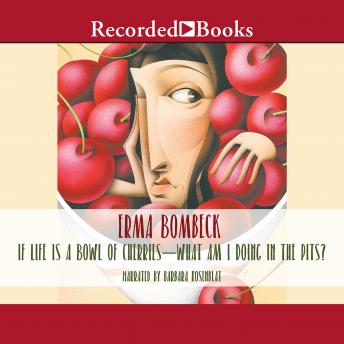 Duration:
3 hours 42 minutes
Summary:
You can count on bestselling author Erma Bombeck to show you the funny side of any situation-no matter how ordinary or difficult. In this collection of heartwarming essays, she ponders what it takes to survive the rigors of contemporary living. As Erma shares her worries about the American way of life, she'll have you chuckling right out loud. You'll view cherished traditions such as the joys of motherhood, TV game shows, family togetherness, and the overworked phrase 'Have a good day!' in a completely different light. So get ready to trade your stale outlook for a hilarious new one. Whether America's first lady of humor is poking fun at family life or taking a poignant look at the difficulties of aging, you'll laugh till the tears stream down your face. And with Barbara Rosenblat's rib-tickling performance, you'll feel as if you are sharing a cup of coffee with Erma herself.
Genres: