If You're Not First, You're Last: Sales Strategies to Dominate Your Market and Beat Your Competition
Unabridged Audiobook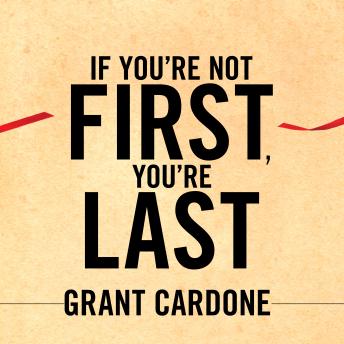 Duration:
7 hours 48 minutes
Summary:
During economic contractions, it becomes much more difficult to sell your products, maintain your customer base, and gain market share. Mistakes become more costly, and failure becomes a real possibility for all those who are not able to make the transition.But imagine being able to sell your products when others cannot, being able to take market share from your competitors, and knowing the precise formulas that would allow you to expand your sales while others make excuses.In If You're Not First, You're Last, international sales expert Grant Cardone explains how to sell your products and services-despite the economy-and provides you with ways to capitalize regardless of your product, service, or idea. His proven strategies will allow you to not just continue to sell, but create new products, increase margins, gain market share and much more. Key concepts in If You're Not First, You're Last include: Converting the Unsold to Sold The Power Schedule to Maximize Sales Your Freedom Financial Plan The Unreasonable Selling Attitude
Genres:
1 of 1 people found this review helpful.

1 of 2 people found this review helpful.