It's Never Too Late And You're Never Too Old: 50 People Who Found Success After 50
Unabridged Audiobook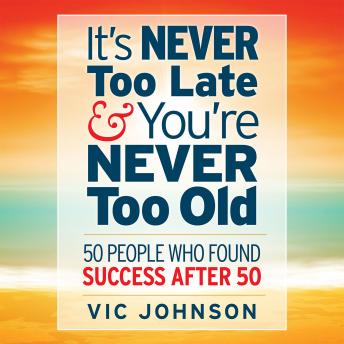 Duration:
2 hours 12 minutes
Summary:
"It's never too late to be who you might have been."

~ George Eliot, 19th Century English novelist

One of the biggest hurdles people over 50 have to overcome is the mindset about their age. There's an old cliche of "age ain't nothin' but a number." But as we all know, getting older does have certain obstacles such as dwindling health, limited income, and the end of long-time careers followed by "now what in the heck do I do?"

Yes, age is the number of candles on a birthday cake, and a stark reality of things to come. But getting older isn't...

...a deal breaker.

...a reason you can't start a business or any other new venture.

...a limit on success.

...a valid excuse for inaction.

...a valid excuse to give up on your dreams.

Here are 50 people who overcame the very same things you are facing right now. Let them show you the way to outrageous success and happiness regardless of your age or circumstances.
Genres: