Jeff Shaara's Civil War Battlefields: Discovering America's Hallowed Ground
Unabridged Audiobook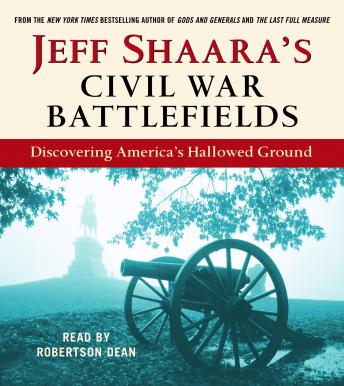 Duration:
9 hours 19 minutes
Summary:
TRAVEL THROUGH A PIVOTAL TIME IN AMERICAN HISTORY

Jeff Shaara, America's premier Civil War novelist, gives a remarkable guided tour of the ten Civil War battlefields every American should visit: Shiloh, Antietam, Fredericksburg/Chancellorsville, Gettysburg, Vicksburg, New Market, Chickamauga, the Wilderness/Spotsylvania, Cold Harbor, and Petersburg/Appomattox. Shaara explores the history, the people, and the places that capture the true meaning and magnitude of the conflict and provides

• engaging narratives of the war's crucial battles
• intriguing historical footnotes about each site
• photographs of the locations–then and now
• detailed maps of the battle scenes
• fascinating sidebars with related points of interest

From Antietam to Gettysburg to Vicksburg, and to the many poignant destinations in between, Jeff Shaara's Civil War Battlefields is the ideal guide for casual tourists and Civil War enthusiasts alike.
Genres:
1 of 1 people found this review helpful.