Legend of Sleepy Hollow
Unabridged Audiobook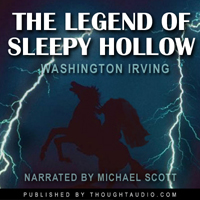 Duration:
1 hours 15 minutes
Summary:
This is a famous tale of an old schoolmaster, Ichabod Crane, who transfers to a small secluded settlement called Sleepy Hollow. During the course of the story Ichabod competes with the town bully, Brom Bones over the hand of Katrina Van Tassel. Listen to the story as one night Ichabod leaves a lively party of food, drink and scary story telling only to confront the infamous Headless Horseman.
Genres:
2 of 4 people found this review helpful.

1 of 2 people found this review helpful.